Contact me at
Valves, Controls, Meters and Gauges
This page has electrical and pneumatic gauges, mechanical gauges, Hydraulic valves and so on.
API shielded temperature meter, 0-300F, 0-150C, new, tested. Model 7045, new but box is missing. short length of thermocouple wire attached let me test it.

4.5 inch wide, 4 inch high, 2 3/4 inch mounting hole.

$25

$10
Very nice condition, 0-160 psi gauge, label on gauge face says "lubricating oil", tags say "do not use with oxygen" and "calibrated 5 Apr 62". - It appears accurate (tried it quickly with shop air), US made, This is an ACCO Helicoid gauge 3 1/2W-160-2 LB. SUBD



Timer, RW Cramer, type TE, 230V, 60 hz, double throw, 0-30 sec, might be unused
Fits in 3 1/8 hole

$20

$15
Milton model 1028 oiler - very helpful if you are using air tools a lot, I find this listed at $50 at various web sites. Milton - 1028 - lubricator, 1/4"
Milton 1028 1/4" NPT in-line lubricator has a 5 oz drop type bowl
Milton precision lubricators are ideal for lubrication of air motors, tools, valves or where low air flow is encountered or where extremely fine adjustments are necessary
Milton lubricators are the logical choice for the customer who wants trouble free protection or tamper-proof reliability
Drop style allows precise setting and then removal of adjustment knob <

Ideal for the customer who wants trouble-free protection and tamper proof reliability. Drop style allows precise setting and then removal of adjustment knob. Perfect for lubrication of air motors, tools, valves or where low air flow is encountered or where extremely fine adjustments are necessary. • Sight glass dome on drop type allows observation for instant drip rate adjustment • Tamper proof • Lubricator may be filled without shutting down line pressure • Oil supply tube check valve guarantees INSTANT START-UP LUBRICATION • Low pressure drop at full air flow • Oil delivered at an air flow as low as 2 SCFM • Safety bowl guards

NOS compression tester, in box, with instructions. RAC number 535

$15

This is an ASCO air operated solenoid valve, it may be unused (it looks that way). The label says the following:
Catalod No. P321A3
Air/Inert Gas PSI 125
Serial # F662679
Aux Air 30-125 psi
Water (PSI) 10-125
Rebuild Kit 212629
Pipe 1/4
Lt Oil (PSI) 10-125
Date 9701
It looks like this valve was prepared for assembly but was never actually installed in anything - the threads in the two open ports look like nothing has ever been screwed into them - I've left the nice stainless steel fittings on the valve, perhaps you can use them and save some $$.
The ASCO site shows this valve here:
the following information is from that page
Catalog Page AirOperated_7.07.pdf
Kit umber 212629
Listed in Catalog 33
Operating Pressure Ratings
| | | | |
| --- | --- | --- | --- |
| Min Operating Pressure (Air) | 10.0 PSI - 0.69 Bar | Max Operating Pressure (Air) | 125 PSI - 8.6 Bar |
| Min Operating Pressure (Water) | 10.0 PSI - 0.69 Bar | Max Operating Pressure (Water) | 125 PSI - 8.6 Bar |
| Min Operating Pressure (Lt Oil) | 10.0 PSI - 0.69 Bar | Max Operating Pressure (Lt Oil) | 125 PSI - 8.6 Bar |
Technical Information

| | |
| --- | --- |
| Actuation Method | Air Operated |
| Body Material | Brass |
| Cv/Kv (Exhaust Port) | 1.20 Cv - 1.04 Kv |
| Cv/Kv (Pressure Port) | 0.80 Cv - 0.69 Kv |
| I&M Pressure Vessel | |
| I&M Pressure Vessel | |

| | |
| --- | --- |
| Inlet Pipe Size (NPT) | 1/4 |
| Max Ambient Temperature | 125 F - 52 C |
| Max Fluid Temperature | 200 F - 93 C |
| Min Ambient Temperature | 32 F - 0 C |
| Min Fluid Temperature | 32 F - 0 C |
| Orifice Size | 9/32 in |
I believe this will take you to an appropriate spec sheet:
http://www.ascovalve.com/Common/PDFFiles/Product/AirOperated_7.07.pdf
the spec sheet says: "
Features
• Unique sealing member isolates pilot air pressure from mainline fluid.
• Variations in pilot air pressure do not affect valve operation.
• Design provides long life handling of lubricated air.
• Handle fluids up to 200°F (92°C).
• Some constructions handle steam up to 353°F (177°C).
• Mountable in any position.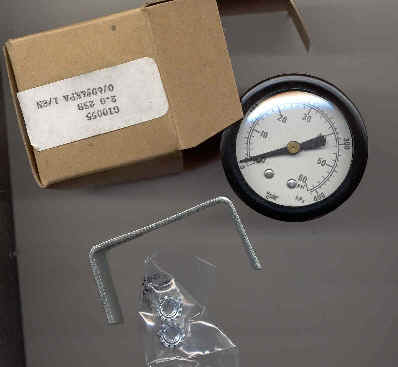 0-60 PSI gauges
NEW, in the box, 2 inch diameter gauges made by Marshall. The gauges are calibrated in both PSI and KiloPascals. They include the bracketry and mounting hardware (see picture). The threads on the attachment fitting are 1/8 NPT (brass). These gauges are suitable for air, nitrogen, argon, etc. They fit into a 2 1/8 inch hole if you wish to panel mount them. The box is marked "G10055", "2.0 23B" , " 0.60.#&KPA 1/8N".
$3.85 each
5 for $3 each
all of them (there are about 45) for $2 each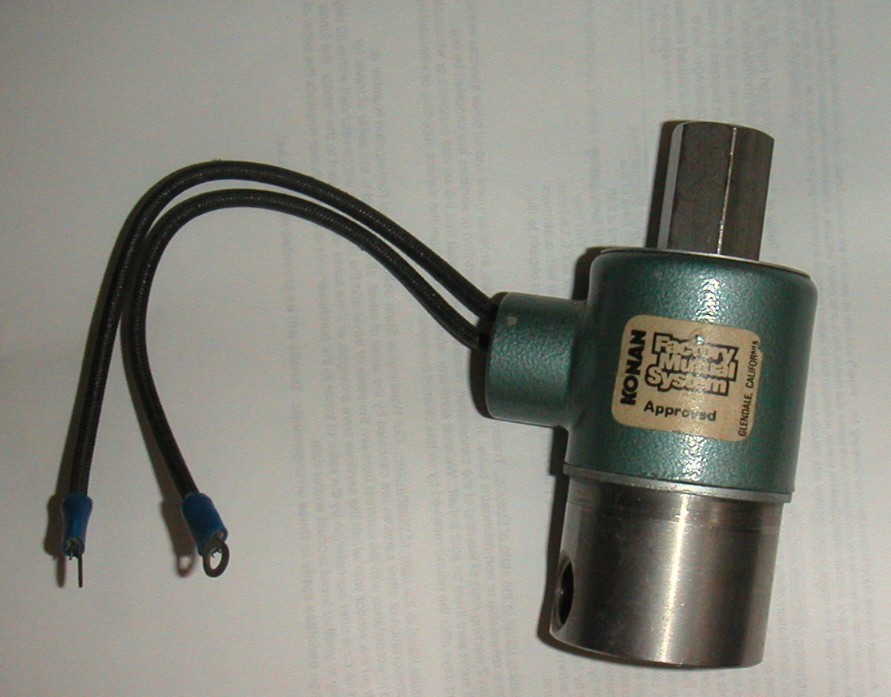 Konan brand solenoid valve
New valve (at least based on my careful inspection, no marring of the threads, etc, I believe it's unused, but terminals have been crimped on the wire ends), no box, has normally open and normally closed ports. Note that I am not charging a packing or handling fee, will ship by US priority mail within the USA, so shipping will be inexpensive. The valve has the following features:
24VDC coil, 10 watts (.370 amps) 1/2 NPT conduit fitting for electrical connections Catalog # 5303AH16V3BC9 Stainless steel valve body 100 PSI max, gas, liquid, or oil
Serial number B94IKH

The aluminum label on the valve says "KONAN Glendale CA, USA"

Paper sticker on valve body says "KONAN Factory Mutual System Approved"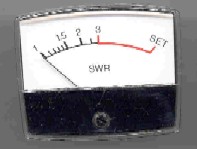 "S" meter, made by ARC, 2 3/4 inch wide

$2

Brooks 1110 series flow meter
This is a large "FULL-View" glass tube variable area flow meter. The glass tube is enclosed in a heavy duty aluminum and glass enclosure allowing the indicating ball to be seen from front and rear. The scale is calibrated in milimeters, range of 0 to 250 mm.
The model number is 1110-01H1A1A, Serial number 70006-42781
If you look on page 11 of the spec sheet there is a model code chart for
model 1110-1140 Series flow meters under meter size this particular model was a size 7
designated by the letter H in the model #.

The company web site with specifications for this indicator may be found at
http://www.emersonprocess.com/brooks/sp210/SP210-15.html
The data sheet for this specific indicator including detailed calibration information is at
click here
Make offer on this item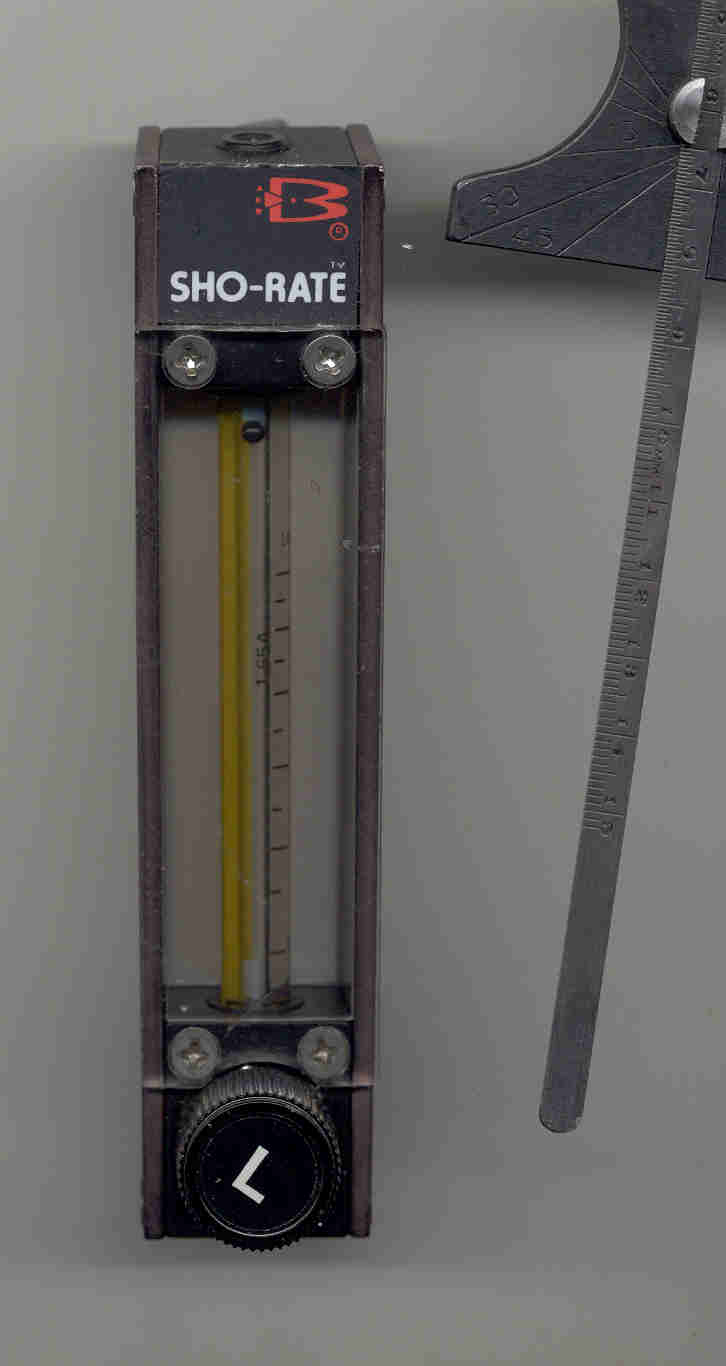 Smaller Brooks "Sho-Rate" flow meter - the rule next to it is 6 inches long.

I have several of these, some are new and sealed, some are used.

New ones $45

Used ones $18

ask for details if interested
Pressure gauge calibrated in PSI and KiloPascals, Made in USA by Marshall Town

One KiloPascal = 0.145 Pound per Square Inch.

Gauge reads 0 to 5 psi or 0 to 34 KPa

Diameter is 2 3/4 inch

$5
2.5 inch pressure gauge, 0 to 30 PSI

I have several different styles of these gauges in this range

$5 each, 4 for $15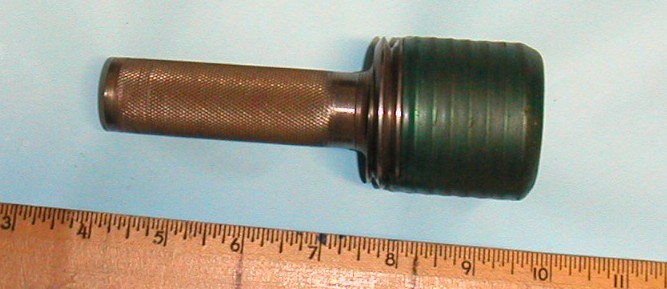 unused? 2 inch X 4 threads per inch no-go gauge - I've had it for a long time, I think it came from Douglas Aircraft surplus store in the 60s, but I don't remember. It has the green protectant on the end, as you can see from the picture

$5
$7 each
Grove Hydraulic Valve, with very large aluminum handle". Body is steel, 1" thick. Removed from a hydraulic cylinder test set - presumably aircraft related - very nice valve, 10 turns (maybe 9 - I might have lost count) from stop to stop, designed for precise flow control. I haven't seen this design before - the big handle threads onto the valve body and then presses on the stainless steel stem to control the flow - there is a clip ring to keep you from unscrewing the handle. The valve has one inlet and two outlet ports - I presume it is a 3000 PSI valve, though there are no markings on the valve body. The handle is marked 098001A.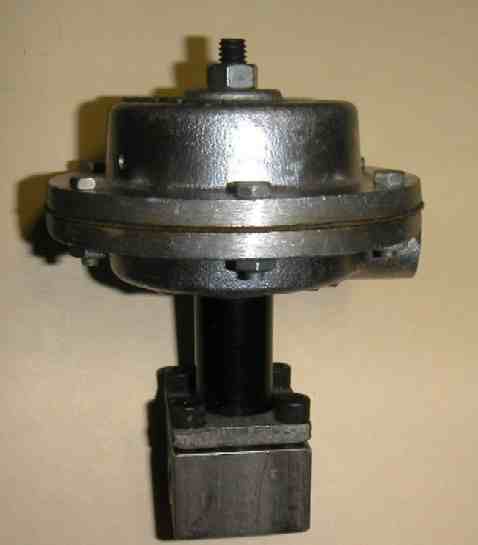 Diaphragm Operated Pneumatic Control Valve

1/4 inch NPT female threads

Stainless Steel Valve Body

Marked GBT 1864.1.10

G W Dahl was bought by Purolator, who then sold the company to Control Air, see http://www.controlair.com/news/ I have no specifications for this item, it is in very clean condition. I have not tested it in any way, so it is AS IS

$5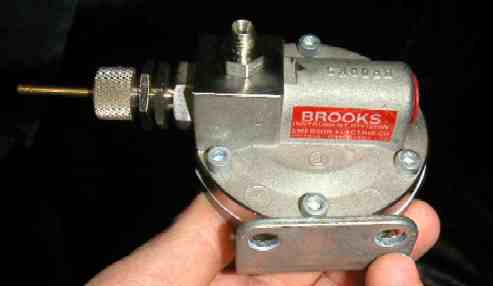 Brooks 8844 NonRisingStem Low flow rate controller valve
Description Brooks ® NRS flow controllers accurately adjust and maintain small gas and liquid flows. Model 8844 is designed for constant downstream, variable upstream applications and Model 8944 is designed for constant upstream, variable downstream applications. Models 8844 and 8944 are supplied with an integral NRS (non-rising stem) control valve. It features an adjustable sliding tapered needle which resists sticking due to foreign matter in the fluid. Particularly suitable for precise control requirements, this valve possesses a high turns-to- lift ratio which provides stable flow for any given stem position.
Design Features Integral compression fittings, standard Performance tested on Helium Non-rotating needle control valve O-ring seal shutoff on needle valve is bubble tight...cannot be damaged by over tightening Integral needle valve, 15 turns full open to full close, with smooth non-reversing flow characteristics Six interchangeable valve sizes for a wide variety of flow ranges Suitable for panel mounting
Operating Pressure
Maximum: 300 psig

Operating Temperature
Maximum: 300 °F

Total Pressure Drop
Minimum: 15 psi
Maximum: 300 psi

Connections
Type-Standard Needle Taper 1, 2 & 3: 1/8" compression fitting, Needle Taper 4, 5 & 6: 1/4" compression fitting Optional: 1/8" NPT (size 1,2 & 3), 1/4" NPT (size 4, 5 & 6)or 1/4" ID hose

Materials of Construction
| | |
| --- | --- |
| CONTROLLER BODY | 316 Stainless Steel |
| CONTROLLER DIAPHRAGM | Teflon* |
| NEEDLE VALVE SEAT | 316 Stainless Steel |
| VALVE NEEDLE | 316 Stainless Steel |
| O-RINGS | Standard: Viton-A* |
Detailed Specification sheet is available at http://www.emersonprocess.com/brooks/spec-%20sheetspdf/ds-sheets/sp210-16/ds-8844-8944-97-4.pdf
This item is in very good, possibly near new condition - as you can see from the photo, it is missing the knob - I believe that it was mounted to a panel on an item of equipment that was surplussed before it was placed into use.
$24
WELKER PROBE REGULATOR
marked WTM 6885, 3000 psi inlet, 0-to 25 psi outlet
Probe marked WTM 7028
material that follows is from
http://www.eesgroup.com/welker_cd/regulators_filters/regulators_filters07.html
Welker Probe Regulators provide a regulated sample supply of liquid or gas product from a pipeline to chromatography H2S analyzers, gravitometers, calorimeters and other on-line analyzing equipment.
Two models are available-a Standard Probe Regulator that is designed to be installed in the pipeline,and an Automatic Insertion Probe Regulator that is designed to be inserted into (and withdrawn from) a pressurized pipeline (maximum operating pressure 1800psig) without pipeline shutdown.
On both models, the inlet is positioned on the end of the probe to enable it to collect product from the central portion of the pipeline-giving you a more representative sample. Both probe regulators inhibit carry-over of free liquids into the instrument supply system.
The diaphragm design of the Probe Regulator allows it to respond quickly to sensitive changes in outlet pressure, making it well suited for applications requiring an accurately regulated source (down to 0 psig).
The Automatic Insertion Probe Regulator allows the operator to control the movement of the regulator in and out of the pipeline safely-through the use of three control valves on the oil reservior. This is especially advantageous in applications where it is inconvenient to interrupt the flow in the pipeline.
APPLICATIONS
Instrumentation supply
Analyzers

FEATURES

& BENEFITS


- Product flows directly through the body
- Simplicity of design
- Long-life durability
- Minimum maintenance
- Reliability
- Samples a variety of products
- Avoids multi-stage pressure reduction

SPECIFICATIONS


Maximum inlet:
Pressure:

Outlet Range:

Materials:

3,000 psig (204 barg) standard
1,800 psig (122 barg) for Auto
Insertion Model
0-100 psig (0-6.8 barg)
(Higher Outlet pressures availble)
316 stainless steel

Make me an offer on this item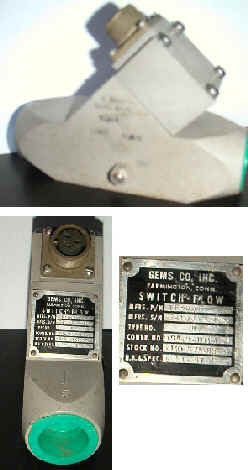 Click to enlarge
Electrically operated flow switch that has been sitting in my garage for quite a few years. Since I've never used it nor needed it, it's time for it to find a new home. It looks like it's never been used, although there are a few scratches on the outside from knocking around with other stuff - both ends are sealed with plastic plugs, so there should be no contamination inside. The threads on both sides are, as best I can tell, 1 inch X 13 threads per inch. There is a directional arrow stamped in the body indicating the direction of flow.

The body is aluminum, I believe, painted gray (it's non magnetic and sure looks like aluminum). The label reads as follows:

Gems Co, Inc

Farmington Conn

Switch-flow

Mfrs P/N 11300

Mfrs S/N F-1034-M

Type No. III

Contr No. DSA-9-16116

Stock No. 5930-873-6589

N.A.A.SPEC 5-11287-8
On the side, it has been stamped "O ring Cure Date: 1Q64 ASSY 1Q65"
So, that makes me think this is a 40 year old valve, probably surplus from the space program, or from aircraft equipment, possibly from the old Douglas Aircraft plant at Clover Field in Santa Monica (I got it decades ago from a retired machinist near the Douglas Plant).
So, you can have a piece of history, or a useful valve, your choice. You certainly need this wonderful thing more than I do. $9.00
updated 11/22/2011