Contact me at
Software and video games for Sale:
PC
Games
Starglider by Rainbird, IBM PC Vintage game 1986 complete package, the disk, the fold out of the starglider itself, the little PC instructions booklet, registration card, playguide, warranty, and Novella. So, from my bookshelf to yours......

$22

Quake Episode 1, unopened, CDROM

I bought this one day at COMPUSA, a chain that has long been out of business - the price tag is on it as you can see- I never opened the package, it's still factory sealed.

$6

Alone in the Dark game, 1995


Brand: Interplay Productions
Model: Alone in the Dark
MPN: retrosoftware12368

Key Features
Format CD-ROM
Platform Windows

Tech Details
Rating T - Teen

$5

Bureau 13 CD COMPUTER GAME NEAR MINT 1994

this is Bureau 13 CD - I think it came with a CD ROM when such things were a novel addition to a computer - it's dated 1994 and requires a 386 or better. So, from my bookshelf to yours......

the intro sequence to this game is on Youtube, here www.youtube.com/watch?v=7F7ptdnrtKM

Here is the entertainment weekly review of the game http://www.ew.com/ew/article/0,,296866,00.html, it sounds like the reviewer didn't think much of it - maybe that's why it's so rare?

BUREAU 13 (Take 2/GameTek, CD-ROM for PC, $49.99) X-Files fans beware: Although on the surface this game concerns a supersecret government organization dedicated to investigating paranormal phenomena, it has little in common with the cult hit. For one thing, the game has none of the intrigue and wit that make the show so addictive. For another, the paranormal in the world of Bureau 13 is remarkably quotidian. Among your team of crack operatives are a vampire, a witch, and a cyborg. Using these and other agents, you must find and bring in a renegade bureau member. While assembling your squad provides some Mission: Impossible-style fun, for the most part the game is a stale seek-and-solve adventure that quickly eats up your time and your patience. C -AK

7th Guest (1997)

I got this game for my daughters when it came out, but they didn't like it "too scary", so I put it aside. Now I'm out of space - and the CD seems to have escaped - if I find it, I'll include it - otherwise, all the brochures and stuff are here, in perfect condition, so if you've acquired a CD elsewhere without the artwork and stuff, here it is. you get exactly and only what is shown.

$4
Management software on 5.25 inch disks $5 each
Item
Remarks
SOFTEXT SPREADSHEET EDITOR
SOFTEXT SPREADSHEET EDITOR - Executable program and instructions - one disk - specialized program for budgeting, scheduling, and control

QSB I and QSB II 3.0

Chang/Sullivan, QUANTITATIVE SYSTEMS FOR BUSINESS

two Diskettes

ASMP - This program solves assignment problems with up to many objects and many tasks.  The size of problems solved by this program depends on the memory in"
your computer.  Tasks may represent jobs while the objects may indicate workers.  The problem criteria can be minimized or maximized, depending on"
the cost/profit coefficients corresponding to each object and task assignment. 

ILP -   This program solves mixed integer linear programming problems with up to many variables (not including slack/artificial variables) and constraints (not including bounds) by using the branch-and-bound method.  

LP - This program solves linear programming problems with up to many variables (not including slack/artificial variables) and constraints.  The size of the problems solved by this program depends on the memory in your computer.

NET This program contains three well-known pure network algorithms: the shortest route, the maximal flow, and the minimal spanning tree algorithms. NET requires a network which contains linked nodes to represent the problem."
The shortest route algorithm finds the shortest route from a start node to any other node on the network; the maximal flow algorithm finds the maximum flow from a source node to a sink node; and the minimal spanning tree"
algorithm finds the minimum total length of branches that link all nodes.

TRP -  This program solves transportation/transshipment problems.  A source or supply point is defined to have only outgoing flows; a destination or sink point is defined to have only incoming flows; while a transshipment point is"
defined to have both.  The size of problems solved by this program depends on the memory in your computer.  The capacities or demands are assumed to be integer valued; the cost or profit coefficients are assumed to be real valued.

CPM - This program analyzes projects with hundreds of activities using the Critical Path Method (CPM).  Each activity is assumed to have a deterministic duration and cost.  You can perform `crash' analysis by entering crash times and costs.  

DP - This program contains three well-known dynamic programming algorithms: the stagecoach problem, the knapsack problem, and a production and inventory control problem.  DP can solve these problems with up to tens of stages and tens of states for each stage. 
The solution procedure uses backward recursion from the last stage- that is, the stage closest to the destination -to the first stage.

PERT - This program analyzes project networks with hundreds of activities using the Program Evaluation and Review Technique (PERT).  The activity durations are assumed to be beta distributed with three time estimates---optimistic, most likely, and pessimistic.			

QSB + (I) and QSB+ (II)
Similar to above, dated 1989 - Two Disks
Project Workbench - Introduction to Project Workbench, Advanced, Utility - two disks
Version 2.2, !986 - various programs
Assorted commercial software
Item
Version
Price
Comments
CD only, companion CD to Windows 95 secrets by Brian Livingston, frequently you find the book without the CD, well, here is the CD without the book.

$6

This is two CDs marked Digital PC 5510 System software, one is version 1.3, one is version 1.4, the version 1.4 CDs is sealed - I looked at the version 1.3 CD, and it prompts to see if you want Windows 95 or Windows NT.

Also included are 4 maunals, as follows;

Digital PC System Software

Digital PC System Solutions

Digital Warranty and Service information

Digital PC 3500/5510 System Reference
$12.00
Here is what you see when you load the version 1.3 System Software CD:
Thank you for purchasing a DIGITAL PC.

This System Software CD-ROM contains several applications designed to make your computer easier to use and manage. This easy-to-use interface will allow you to select the applications you want to install on your hard disk drive and guide you through the installation.

To get started, select an Operating system from the list below:
Windows 95

Windows NT
Digital Equipment Corporation 1998. The DIGITAL logo is a trademark of Digital Equipment Corporation
All other trademarks are the property of their respective owners.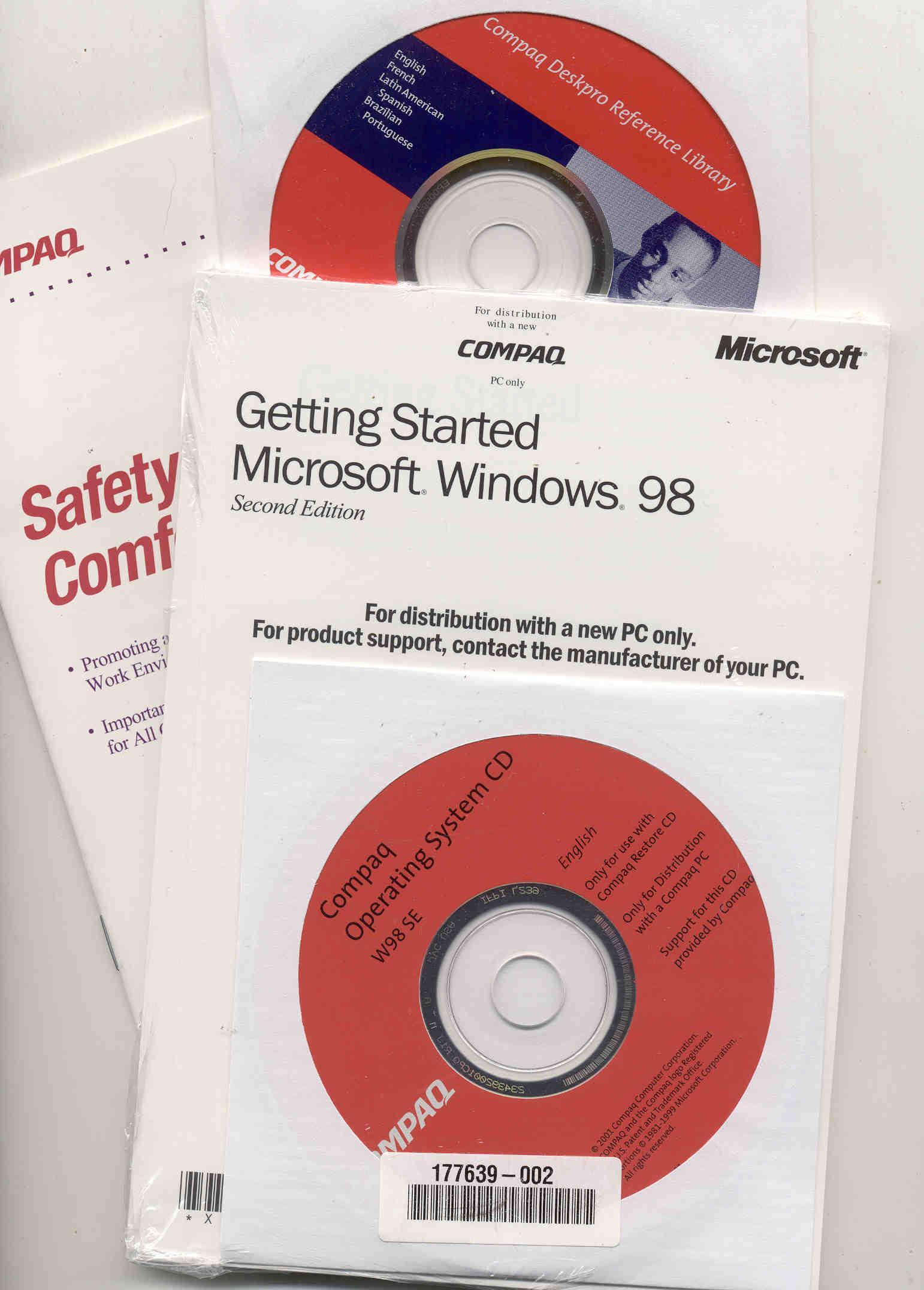 Unopened Compaq Windows 98 SE CD and Reference Library CD
$8.00
Compaq Windows NT (workstation and server both) plus various manuals
$15
Item Specifics - Textbooks, Education 
Publisher: Microsoft Pr
ISBN: 0735605556
Publication Year: 1999

Category: 
Computers & Internet
$9.00
Good condition book for those who really want to exploit MS Office. 
Includes a CD (CD package is unopened). Original price $59.99. 
I used this in support of some development activities. The back of the book says:

"Roll out, support and optimize Microsoft's next-generation Office 
suite with expertise from those who know the technology best - 
the Microsoft office 2000 product team. This powerhouse reference packs 800+ pages 
of detailed technical drill-down plus exclusive tools and utilities on CD - all designed to 
help you save time, reduce support costs, and lower total cost of ownership (TCO).
College Quest Personal Edition
2.0
$3
* CollegeQuest Personal Edition "The best advice, the best tools, the right guide" - for Windows and Macintosh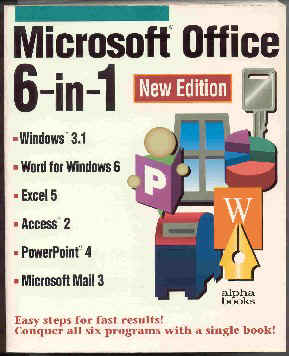 Book - MS Office
covers office pro ver 4.2, original price 26.95
$5
excellent condition794 pages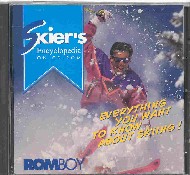 Skier's Encyclopedia on CDROM
$4
Everything you want to know about skiing!
Well, I don't know about that claim, but that's what it says on the cover of the CDROM - Made by ROMBOY, includes: Interactive Ski Lessons Sier's Almanac and Atlas Equipment Information
Great gift or stocking stuffer for someone interested in snow skiing.
Harvard Project Manager
3.01
$8
both 5.25 and 3.5 inch disks, original disks, no manuals.
Microsoft Project
4
$11
Both 5.25 and 3.5 inch disks. No manual
Borland Quatro Pro
1.01?
$5
4 disks only, original disks with serial number. Disks are: system disk, add-ins disk, resource disk, help disk.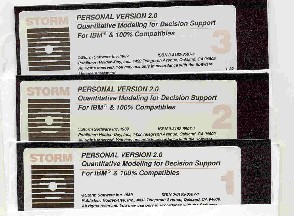 Storm Quantitative Modeling and Decision Support
2.0
$5
3 original disks: marked 1,2,3, dated 1989
TASK MONITOR
Task Monitor
4.207
$5
Task Monitor Project Management Program . Six original disks, with serial number. No manual
Computer Select
Computer Select CD, Unopened, "Stand Alone" edition
March 97
$2
Valuable resource with reviews and information about computer related items - software, etc
Toshiba Font disk
Toshiba Extended Word Processing Package
1986
$0.50
5 fonts, one 5.25 inch original disk, "Toshiba Font Disk/Extended Word Processing Package
Project Calc
Project Calc
1988
$3
Project Calc project management Add-in Software for Lotus 1-2-3 release 2.0 or 2.01, dated 1988. one disk as shown, no manual.

Also, have same product on 5.25 inch disks (two disks).
VTERM
1984
$15
In 1984, I was working on a very large project that would require access to VAX computers from a user's desktop via IBM PCs and XTs - I evaluated every terminal emulation package then on the market, and selected VTERM as the best (remember, this was in the very early days of PC software), and we ultimately bought around 150 copies. This was my personal copy, and it has some of my evaluation notes on yellow stickies in the manual, along with the purchase order ($160 for one copy). Everything is there, including the very early verison of the software and a version that came out a bit later that fixed some bugs. This is still an excellent package, I used it with a home built 300 baud modem to log in remotely, and later to post on bulletin board systems (anyone remember WWIV BBS system?). I haven't used it in over a decade, so it's time for this to find a new home - this really should go into a collection - how many times will you find something like this with the purchase orders and whatnot?

The software was made by Coefficient Systems Corporation, in New York - Google books has a mention of them here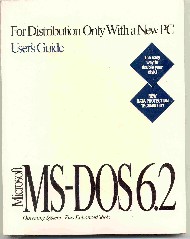 MS Dos 6.2
6.2
New`
sealed package, with certificate, no original disks
MS DOS 5 Upgrade
MS DOS 5 Upgrade
5
$12
Disks Only, MS DOS 5.0 upgrade - 3 disks.
Microsoft Windows 3.0
Microsoft Windows 3.0
3
$10
3.5 inch Disks only
Borland Sidekick
1.5
$2
manual only, excellent condition
Andrew Tobias, Managing Your Money
1989
Andrew Tobias Managing Your Money - this was one of the premier personal finance programs in the 80s/90s - complete package as shipped to me in Jan 1990 by the company, the shipping paperwork is included. you get:

4 disks

manual

new user letter

winter 1989 newsletter

checkfree brochure

fast start instructions

"client agreement"

torn shipping box
Harvard Graphics - a presentation program like MS PowerPoint
$5
complete
Great screen blanker - AfterDark for windows 3.X and 9.X by Berkley Systems. Complete package with box, disks, etc.
$8
Includes 45 displays, and bonus displays from Totally Twisted After Dark. Displays include:
Flying Toasters (of course) with Karaoke Bad dog (trashes your desktop by digging holes all over the place) Fish / Ocean scene Boris the cat chasing butterflies all over the place

Others include artist Bogglins Bugs Clocks 3.0 Confettin Factory Daredevil Dan Dos Shell Ftse Morph Frost and Fire Geo Bounce Globe Guts Logo Marbles Messages Mountains Mowin' Man MultiModule Nirvana Nocturnes Nonsense Om Appliances Photon Punch Out Puzzle Rain Randomizer Rat Race Ray Rebound Rose Satori Slide Show Spheres Spotlight Stained Glass Swans Tunnel Warp You Bet Your Head Zooommm! And, it includes the infamous Flying Toilets display from "Totally Twisted After Dark"
Includes Music, sound effects, various customization options. Password protection available. Randomizer lets you select your favorites and play them in any order. Multimodule lets you run up to 6 displays at once to create custom screen savers. Will shut down an Energy Star monitor to save power after a specified time period.
This program will work with Windows 3.1, so it's a good way to liven up that old PC that you have lying around. Or, add it to your collection of famous software, you have to have this in your collection now, don't you? Also fully supports windows 95, 98, etc
Mac
Item
Version
Price
Comments
| | | | |
| --- | --- | --- | --- |
| Item | Description | Price | Comments |
| | Pitfall CD for Sega, with plastic case and booklet | $8 | |
last updated 05/29/2011
trademarks herein are the property of the respective trademark owners